Train the Trainer Certificate Course, Goregaon (East), Mumbai - 400065
A complete 'Faculty Development' and 'Train the Trainer' certificate course for all teachers, trainers and aspiring teaching and training professionals.
(Only on Sundays, Total 12 Sundays, Timing – 2.00pm. to 6.00 p.m.)
Course Venue: 529, A-Wing, Mainframe Building, Near Orchid Mall, Royal Palms Estate, Aarey Milk Colony, Goregaon(East), Mumbai-400065.
Certification Course for Trainers, Teachers and Educators
(Existing & Aspiring). Ideal course for Beginners in Training and/or Teaching 
Introduction:
We are happy to announce our Training for Trainers Certification course for trainers. This  is a practical short-term faculty development certification course in training. Which helps participants learn the concepts of training in classrooms. And also get to practice their training skills by delivering mock sessions of training in classroom, and by getting an opportunity to practice in a real training location. We have tie-ups with agencies and NGOs where our participants are expected to deliver real training sessions. Training is an art which can only be learnt by practice. There is a course available in training by distance learning like Diploma in Training and development  by India Society for Training and Development (ISTD). This is a good course but is a distance learning course. We believe trainers must do more of practicals in training which will help in fine tuning their classroom skills and presentation skills. Distance learning course in training and development offered by any training institution or by Indian Society for training and development may not fulfill the need of a learner to practice the skills.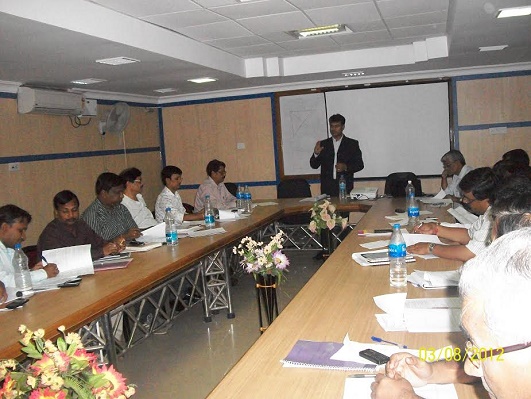 For whom: 
Training for Trainers – Train the Trainer Programme
This  certificate course in training is designed exclusively for people who want to become professional trainers. This program is helpful for those who are in training but, have no formal education. This is more than a train the trainer course. This is also for those who are working in training and development department with relevant qualification but still want to sharpen their skills and learn new ways to impart training and education with increased effectiveness. Though trainers practice in the field of training however. many of them do not update themselves from time to time. Doing a distance learning course in training and development does not completely fulfill the need of a training professional. Enrolling for our Train the Trainer course helps trainers continue to upgrade their skills and keep learning. With time, the participants and their expectations change so, the methodologies trainers follow need to be upgraded accordingly.
For Teachers and Faculty – Faculty Development Programme
This training and development course is a great value addition for teachers and those who are in the teaching profession. Teaching is a profession of great responsibility as teachers handle and train our future generation. The knowledge, values and skills imparted to the students decides the destiny of the society and the country. If teachers fail to teach with the right intent, imparting right values and right knowledge, they are not doing justice to their profession. So it is important for all stakeholders to ensure that only the best teachers are filtered and brought into this profession. Teachers must not only be academically brilliant but also have the passion, love and desire to make a positive difference in the lives of the students. Teachers have to play the role of a role model, mentor, counsellor, motivator and leader for students. At the same time, they must also feel the need to be aware of the socio-economic, political, technological and job oriented changes happening around them. Many teachers get so busy in teaching and other day-to-day affairs of the school and their personal lives that they fail to upgrade themselves. This reflects in their quality of teaching and quality of students graduating from schools or colleges. Teachers must be give regular inputs in teaching methodologies researched and practiced in current times along with the softer aspects of teaching like playing the role of a motivator and mentor. Technical and emotional aspects should both be balanced in a teacher and only then they can do real justice to their jobs.
For Aspiring Trainers
There are lot of people who are passionate about teaching and training and they want to become trainers. They may not be from training background and may not have any teaching or training experience. This training of trainers course is ideal for them as we teach them how to become trainers. Basic skills like public speaking, presentation skills, platform skills, communicating to a group, handling a class, facilitating learning in classroom, using different methodologies for teaching and training are all covered in this course. These concepts cannot be learned by just doing a distance learning course. In our training certification course, all these concepts are taught practically by actually making participants do practicals. Lots of exercises and practicals gives them a good practice. Participants are encouraged to take a lot of mock sessions to learn teaching skills in this programme. The practical and hands on methods of experiential learning followed by our training and development course is a boon for an aspiring trainer.  At the end of this course one can expect the participants to be ready to take up training or teaching assignments.
Certificate Course in Training – Objectives
To teach participants and educate them on the concepts of training and development
To update participants on the latest trends and practices in training
To help participants learn the skills needed to be an effective trainer
To give participants enough practical practice to sharpen their training delivery skills.
To teach aspiring training professionals latest concepts, tools and techniques to increase their employ-ability.
To assess participants training ability, skills and confidence in conducting independent training sessions and give feedback for them to learn and improve.
To develop trainers by way of personal coaching, mentoring and hand-holding.
Certificate Course in Training  – Syllabus
Session wise listing of training topics (Total 12 Sessions)
Introduction to Training & Development, Understanding the Strategic Training Process, Overview of training in organisations, Overview of HR function in relation to training function, Concept and Characteristics of Learning Organisation, Knowledge Management & Transfer of Learning.
Training Need Analysis, Needs Assessment Process, Organisational Analysis, Task Analysis & Person Analysis, Tool & Techniques of Analysis, Industry Practices.
Designing Training, Programme Design, Learning Objectives, Concept of SLO, Theories of Learning, Adult Learning, Concept of Pedagogy, Andragogy & Synergogy
Instructional Design, Instructional Design Model and theories, Instructional Design principals, ADDIE Model, Blooms Taxonomy, E-Learning
Competency Mapping & Modelling in relation to training, Competency Matrix, Competency Based Training
Organising a training programme, Open Programmes, In-House Programmes, Training Proposal Document, Training Calender, Training Materials, Facilities Management, Training Aids and tools.
Training Methodologies, Classroom training, Outbound training, On the job training, Case method, Role-plays, Simulations, Business games, Vestibule, Syndicate method, Seminars and Conferences,
Training Delivery – Classroom Management, Presentation Skills, Platform Skills, Handling Questions, Engaging the audience, Handling the sessions, Interaction Skills,
Time Management, Effective use of methods, Activities and Exercises, Trainers Etiquette, Communication Skills, Grooming etc.
Training Effectiveness Evaluation, Evaluation Process, Need for Evaluation, Kirkpatrick's Model.
ROI (Return on Investment) in training, Concept of BCR(Benefit Cost Ratio in Training)
Training Practice Practicals – Classroom exercises, Mock Training Sessions, Assignment Presentations, Video recordings etc
Evaluation:  
Training Practicals (Outside) – Realtime training exposure (10 sessions), Training Internship & Visits, Participants are expected to conduct 10 real time sessions. They will be provided actual training opportunity in a real environment. They will be evaluated and graded based on the performance in real sessions followed by a final viva interview by our experts. There is no written examination.
Certificate:
On attending all the 12 classroom sessions and completing external practical training delivery assignments, and after passing the interview by our panel the participants will be awarded the Certificate.
Certificate in Training for Trainers – Course Details:
Lectures Timings: Only Sundays ( Afternoon 2.00pm -6.00 pm) Total 12 Sundays
Eligibility: Graduates
Course Fees: 16000/- Pay by cheque favoring – Cogito Counseling and Psychotherapy Centre
Certificate Course in Training  – Faculty Team:
Mr. Praveen Singh, MHRM, BA (Psychology), DPMIR, TOTA, AGI (USA)
Director & Lead Faculty
Praveen Singh has been actively involved in Training & Consulting since fifteen years in Power, Energy, Oil & Gas, Infrastructure Sector Companies.  He has been working for more than forty companies spread all across India. He is an experienced trainer in Soft-Skills, Attitudinal, Behavioral Training, HRD & Psychology topics.  He earlier worked with an UK based Web Enabled Co. as Human Resource Manager and with a leading  Management Consulting company. Currently he is Empanelled Corporate Trainer with companies like Reliance ADAG, Tata Power, Adani Group,  RBI, RCF, Essel Group, DTPS, CESC, AIPM, NEC, IEMR, Sterling, Etc. He is also an IMO & DG Shipping Certified Maritime Trainer & Consultant to MMTI, SCMS & GURSHIP.
He also teaches MBA & PG Students of Management as Visiting Faculty and is associated with several Business Schools affiliated with Mumbai University & SNDT University. He has been conducting programmes in many cities in India including, Mumbai, Delhi, Gurgaon, Noida,  Kolkata, Bangalore, Pune, Nashik, Mundra(Bhuj), Sagar(MP), Jodhpur, Patna, Goa, Orissa, Kodaikanal & Cochin. Having traveled to many countries in Europe, including The Netherlands, Germany, Belgium & France, is exposed to different work cultures.
Other Faculty & Resource Team
Mr. Ashok Sharma, BTech, MBA, M.Phil
Ms. Ashwini Padhalkal, MCom, MBA
Ms. Nikita Gupta, MA Psychology
Ms. Mohua Banerjee, MBA-HR
Ms. Jyoti Kurade, M.A. (Counseling Psychology)
Ms. Poonam Agarwal, MA. Counseling Psychologist
Contact for Admissions:
Praveen Singh
MHRM, BA(Psychology), DPMIR, TOTA, AGI(USA)
Director & Lead Faculty
Cogito Training & Counseling Centre,
529, A Wing, Mainframe Building, Near Orchid Mall, Royal Palms,
Aarey Milk Colony, Goregaon (East), Mumbai – 400065
Tel: 9869018775