Career Counselling Services in Mumbai
We do career counselling and vocational guidance for school students, junior college students, final years students, professional courses (MBA & Engineering etc.), young working professionals and also senior professionals by helping them find out their real interest and aptitude  towards a subject and career.
Our Career Counselling Centre, Goregaon(East), Mumbai-400065
Career counselling is a broad term used to help all those who may have some issues, confusion, dilemma, conflict about their career choices. The same term may have a different meaning for different age groups. For a school student it may be to know what subjects they must study after they pass their matriculation examination. For a college going student it could mean what jobs or what further studies they must undertake. For working professionals it may mean career growth, promotion, job opportunities, more money etc. For senior professionals it may mean work-life balance, stress management, handling work pressure, changing jobs profitably, resume rewriting, employability, industry specific growth, changing careers, retirement planning or exploring second career options etc.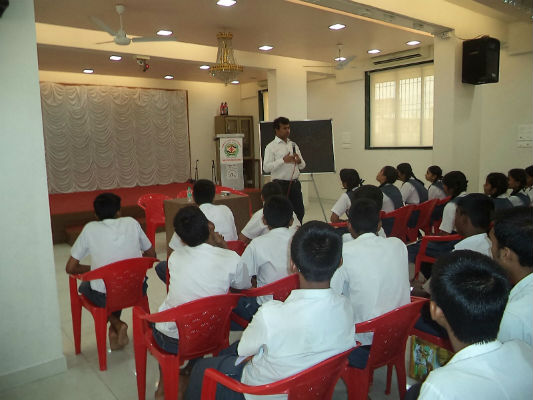 For each age group we do a detailed analysis and find out their basic concern. The counselling is done accordingly.
When it comes to aptitude testing for career guidance, there are two things involved. One is aptitude testing to find out subject aptitude. It means knowing specifically the aptitude of a person towards specific subjects. Some people may be good in maths, where as others may be good in science subjects, or engineering or medical subjects.
Second is to find  career aptitude or career interests. It means knowing a person's inclination or interests towards a specific career. For finding out both the aptitudes, the approaches are different and the tests are also different.
Our Services and Charges:
Career Counselling:
Rs. 500 per session: Career Guidance and Counseling without testing
Career Aptitude Testing and Counseling:
Rs.1000 -3000 for Career Counseling along with Psychometric Assessment as per the specific need of the person.
Group Testing for PG-Management Students
Undergraduate Students of  Management are often confused about their electives, specialization subjects and Careers. We help them by giving them a test which gives very specific idea about their natural choice of career in Marketing, HR, Finance, IT or Operations.
This is a very simple test which can be conducted in groups and results can be seen immediately. We combine this test with a seminar where we address their career related concerns and guide them with a road map.
Our expert will address them after the test and take questions related to studies, career choices, personal development etc.
Time: 3-4 Hours (One hour for test and two hours for seminar and interactive question and answer session)
Batch Size: 40
Cost: Rs. 15,000 (Per Batch)
Career Counselling For School Students
For school students we use aptitude tests, interest tests, personality tests & intelligence tests. The combination of these four tests are used to help the students know which courses they can take up after they leave school. These tests are time consuming and quite elaborate. In aptitude testing we use differential aptitude test which has further 7 subtests. The tests are further described in detail.
There are different tests to be conducted for different age group as per their issues and concerns.
School students may need aptitude testing to know about the best choices of vocation as per their innate ability. This will help them to go for the right courses after school.
PG Students are often confused about their electives, specialization subjects and Careers. We help them by giving them a test which gives very specific idea about their natural choice of career in Engineering, Arts, Commerce, Media, Design, Research, Medical, Marketing, HR, Finance, IT or Operations etc.
 Professionals may need Career Aptitude or Career Interest testing to understand their interest areas. This will help in carving out the right career in their current functional domain or related areas. They may also need guidance in changing their career tracks as per their interests and aptitude.
Our experts from different domain experience and expertise do coaching & mentoring as well.
Contact us for Career Counselling:
Praveen Singh
MHRM, BA(Psychology), DPMIR, TOTA, AGI(USA)
Director & Lead Faculty
Cogito Training & Counseling Centre, 529, A Wing, Mainframe Building,
Near Orchid Mall, Royal Palms, Aarey Milk Colony, Goregaon (East),
Mumbai – 400065
Tel:9869018775, www.cogitoindia.com,
www.facebook.com/psychologycourse