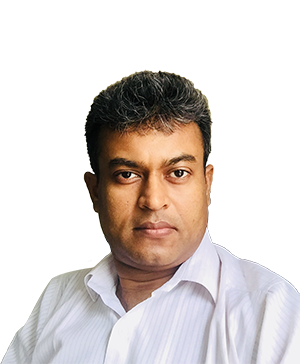 Prof. Praveen Singh
MBA (HRM), DPM&IR,
B.A.(Psychology),TOTA, AGI(USA)
Director & Lead Faculty
Cogito Training & Counseling Centre, Mumbai
Praveen Singh is the Director, Lead Faculty and Leadership Coach with Cogito Training and Counseling Centre, Goregaon, Mumbai. Cogito Training and Counseling Centre offers services like Corporate Soft Skills Training Solutions, Executive Coaching, Life Coaching and Mentoring, Faculty Developed Training, Campus to Corporate Training, Psychology and Counseling Workshops, Career Planning, Resume and Profile Editing, Aptitude Testing, Psychometric Assessments and Counseling.
Praveen Singh has been actively involved in Training & Executive Coaching since sixteen years in IT, Manufacturing, Power, Energy, Oil & Gas, Infrastructure Sector Companies. He has been working for more than forty companies spread all across India. He is an experienced trainer in Soft-Skills, Attitudinal, Behavioral Training, HRD & Psychology topics. He earlier worked with an UK based Web Enabled Co. as Human Resource Manager and with a leading Management Consulting company.
He also teaches MBA & PG Students of Management as Visiting Faculty and is associated with several Business Schools in Mumbai. He has been conducting programmes in many cities in India including, Mumbai, Delhi, Gurgaon, Noida, Kolkata, Bangalore, Pune, Nashik, Mundra(Bhuj), Sagar(MP), Jodhpur, Patna, Goa, Orrisa, Kodaikanal & Cochin. Having traveled to many countries in Europe, including The Netherlands, Germany, Belgium & France, is exposed to different work cultures.
Major Clients (In-House Training): Praveen Singh has been empanelled with Reliance ADAG since 2005, and have been conducting training programmes for Reliance Infrastructure, Reliance Cement, Reliance Power, Reliance Communications, Reliance Metro, Dahanu Thermal Power Stn.etc. As a panel trainer of Reliance ADAG, he has conducted more than 300 soft skills training programmes for their group companies.
He also work regularly for Tata Power, Mahindra & Mahindra, Reserve Bank of India(RBI,Mumbai), RCF Ltd, Thal(Maharashtra),  BRO(Ministry of Defence), Adani Group(Bhuj,Gujarat),  Calcutta Electricity Supply Co., Kolkata,  Asia Institute of Power Management, Kolkata, Great Lakes IEMR, Gurgaon, NIIT Technologies(Mumbai & Greater Noida),  Sterling Group, Nashik Engineering Cluster,DB Power, Raigarh, TIME Institute, Embassy Properties Pvt Ltd., Banaglore, etc.
Marine  Industry – He is a DG Shipping and IMO Certified Maritime Trainer (ToTA Certified). He has been training mariners, sailors, riggers and seamen working on Oil Rigs, Oil Tankers, Chemical Tankers, Bulk Carriers, Vessel Carriers, VLCC & Passenger Cruise Liners. Associated with Maritime Training Institutes like, SCMS, MMTI, Arya Marine Academy, Gurship Management etc. Have also worked for MTI(Shipping Corporation of India), Anglo Eastern, ARI and Yak Marine.
Banking Industry: He has conducted good number of programmes for the banking sector. Participants from Reserve Bank of India, NABARD, Canara Bank, Dena Bank, Vijaya Bank, Syndicate Bank, Bank of India, Punjab National Bank, State Bank of Hyderabad, State Bank of Mysore, Bank of Baroda, etc. have undergone his programmes.
Govt. and Public Sector Undertakings.  Conducted programmes for companies like BARC, BRO(Ministry of Defense),NTPC, Coal India Ltd, RCF, HPCL, AAI etc.
International Participants: Have trained participants from Afghanistan, Angola, Ghana, Bhutan & Nepal. Have also traveled to many countries in Europe, including The Netherlands, Germany, Belgium & France, and is exposed to different work cultures.
Training Topics: Leadership Development, Managerial Effectiveness, Supervisory Effectiveness, Campus to Corporate Induction Training, Facing Interviews, Workers Training,  Team Building, Interpersonal Relationships, Public Speaking,  Presentation Skills, Personality Development, Train of Trainer(TOT), Faculty Development,  Counseling Skills, Listening Skills, English Speaking, Communication Skills, Goal Setting, Time Management, Confidence Building, Attitudinal Change, Motivation, Stress & Anger Management, Conflict Resolution, Change Management, CRM(Customer Relationship Management), Business Etiquette, Assertiveness, Positive Thinking, Emotional Intelligence, Transactional Analysis, Power of Sub-Conscious Mind etc.
Academic Affiliations: Prof. Praveen Singh is Visiting Faculty with University of Mumbai and other Management Institutes teaching subjects like, HRM/HRD, Strategic HRM, Organizational Behavior, Organization Development, General Management, Training & Development, Organization Theory & Structure, Business Communication, Leadership & Teamwork etc.
Certificate Course in Psychology & Counseling
(Offline and Online Batches Since 2010)
At his Centre and Institute, with his team of professional psychologists, he runs a very popular course named, "Certificate Course in Psychology & Counseling", every two months. This value adding psychology and counseling awareness course is open to all. You can find more details about this course here. http://cogitoindia.com/counselling-psychology-course-in-mumbai/
Recognitions: 
Winner of  Indian Achiever's Award 2020-21, for Training & Counseling in Recognition of Outstanding Professional Achievement and Contribution in Nation Building. This award was given by Indian Achiever's Forum, New Delhi.
Recognized by Shri Vishwakarma Skill University(Govt of Haryana) for his participation in Innovative Teaching Pedagogy in Higher Education in Corporate Trainer Category, Oct 2020.
ASTD Excellence in Practice Award.  SPARSH – A Touch of Warmth and Care  received an ASTD Excellence in Practice Award out of 178 entries in 2011. Was member of the award winning SPARSH Team involved in training project SPARSH as faculty at Reliance Infrastructure Ltd.
Was nominated by ISTD (Indian Society for Training & Development), New Delhi, for the Prestigious "Vivekananda National Award" for Excellence in HRD & Training in the year 2008. Was among Top Six Finalist at National Level in all India competition.
Recognized by REMI(Reliance Energy Management Institute) for featuring constantly  among the top rated external faculties.(2006-2012). Average rating @ 4.4/5
---
Associates and Empanelled Psychologists
Ms. Poonam Agarwal, MA (Counseling Psychology), University of Mumbai, Sr. Faculty, Psychologist and Psychometric Assessment Expert.
Dr. (Mrs) Swagata Nandi Dasgupta, Ph.D,  Clinical Psychologist Special Educator & Therapist, Sr. Faculty
Dr. Anuradha Jain, Ph.D,  Counseling Psychologist and Therapist. Sr. Faculty.
Ms. Mumtaz Mistry, MA, Clinical Psychology, University of Mumbai. Faculty Psychologist and Therapist.
Ms. Pritha Saha, MA, Counseling Psychologist and CBT and REBT Practitioner Therapist
Ms. Vipra Dave, MA, Clinical Psychologist and Guest Faculty
Ms. Ashita Narang, Special Educator and Guest Faculty
Ms. Sonam Mehta, Special Educator and Guest Faculty
Ms. Maitreyi Redkar, MA, Mhil & Ph.D (Pursuing IIT Bombay), Clinical Psychologist and Guest Faculty