Inhouse Training on CRM (Customer Relationship Management)
Cogito Training Centre, India, conducts inhouse training course on Customer Relationship Management  for employees of its client's companies by providing the services of a freelance customer relationship management trainer. Our programmes are customised  as per the training requirements of our clients. We add additional modules and topics as per the need of customers. We also help in hiring a  freelance trainer for conducting customer relationship management training modules. Cogito Training Centre provides CRM  trainers to our clients in all major cities like: Mumbai, Delhi, Chennai,Bangalore, Hyderabad and Kolkata. Please speak to us at 9869018775 or write to us atcogito_pks@hotmail.com to hire our freelance trainer for conducting CRM training program in your premise.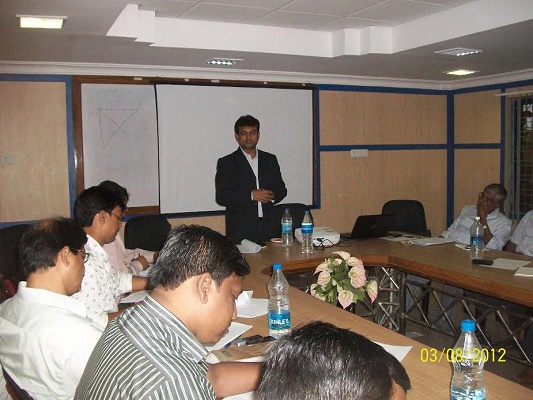 Introduction to Customer Relationship Management Training:
Customers are the most important aspect of any business. In-fact businesses exist because of customers. In today's competitive world, where customers have multiple choices, the challenge is all the more difficult. It implies that we need to serve customers with increased focus and sensitivity. This is customer centricity. This helps in creating a positive image to the customer and also in differentiating the organization from other competitors.
This programme seeks to address this issues in detail and tries to find ways to increase customer centricity and focus, to achieve higher customer satisfaction and increased employee morale.
Objective of CRM Programme:  
To increase customer focus and customer centricity among employees dealing with customers.
To develop service attitude among employees.
To teach them the importance of customer satisfaction and give them basic inputs on CRM
To help them improve their communication skills by correcting their language and attitude towards internal and external customers.
To motivate them by giving them behavioral inputs for self development & learning.
To give right inputs to deal with personal and work related stress and also to help them manage anger.
For Whom: Jr. & Middle Management
Duration: One Day
Language: English
Contents:
Day –I
Knowing my customer – Importance of Customers, Customer Centricity
Poor Service – A silent killer, Service Reputation, The moment of truth, Recovery
Service Attitude -Positive Attitude – Changing Attitude,
Handling Difficult People
Effective Communication & CRM – Importance of Communication, Effective Communication, What makes Communication Effective? Who is an Effective Communicator?
Assertive Communication
Negotiating with Customers
Day – II
Conflict Management
Importance of Body Language – Language of Body, Eyes, Voice Modulation, Gestures, Postures etc
Listening Skills – Importance of Listening, Process of Listening, Listening & Hearing.
Using Correct Language: Talking to Seniors, Juniors, Colleagues, Motivating Others & Building Relationship Skills by Correct Language.
Telephonic Talk & E-Mail Etiquette
Stress Management & Anger Management
Service Stories & Cases
Venue: In-House
Methodology: Highly interactive sessions with individual attention and inputs. Story telling, Experience sharing, Participation, Role-plays,  Exercises etc.
Course Material: Course material will be provided for the programme.
Faculty:
Prof. Praveen Singh
MBA (HRM), DPM&IR, B.A.(Psychology),TOTA, AGI(USA)
Praveen Singh has been actively involved in Training & Consulting for more than fourteen years. He is an experienced trainer in Soft-Skills, Attitudinal, Behavioral Training, HRD & Psychology topics.  He earlier worked with an UK based Web Enabled Co. as Human Resource Manager and with a leading  Management Consulting company. He is the Lead Faculty at Cogito Training & Counseling Centre, External Consultant & Empanelled Trainer at Reliance ADAG, DTPS, CESC, AIPM, NEC, IEMR & Sterling Institute. Maritime Trainer & Consultant to MMTI, SCMS & GURSHIP. He is also a Visiting faculty to several Management Institutes in Mumbai.
He has been conducting programmes in many cities in India including, Mumbai, Delhi, Kolkata, Bangalore, Pune, Nashik, Jodhpur, Patna, Goa, Orrisa, Kodaikanal & Cochin. Having traveled to many countries in Europe, including The Netherlands, Germany, Belgium & France, is exposed to different work cultures.