Inhouse Training on Emotional Intelligence 
Cogito Training Centre, India, conducts inhouse training course in Emotional Intelligence for its client's companies by providing the services of a freelance emotional intelligence trainer. It's a very popular programme. Our programmes are customised as per the training requirements of our clients. We add additional modules and topics as per the need. We also help in hiring a freelance trainer for conducting emotional intelligence training modules. Cogito Training Centre provides emotional intelligence trainers to our clients in all major cities like: Mumbai, Delhi, Chennai, Bangalore, Hyderabad and Kolkata. Please speak to us at 9869018775 or write to us at cogito_pks@hotmail.com to hire our freelance trainer for conducting a training program in your office.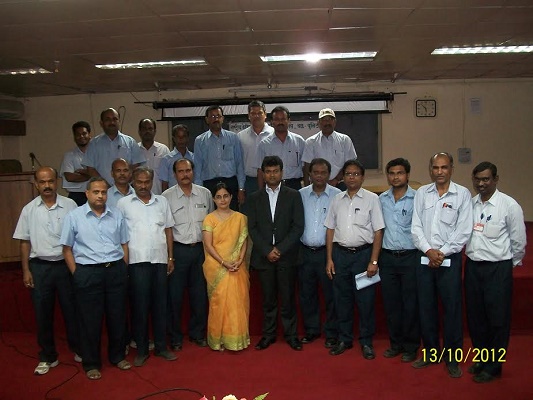 Introduction to Emotional Intelligence Training Programme:
Leadership is an art of influencing people. A good leader is one who has the ability to create and develop a team. Communicating, motivating, supporting and leading from front with the sense of accountability and ownership is what defines a leader. There are certain behavioral traits which can be developed and one's effectiveness can be improved as a leader.
An effective leader is one who is able to deal with his people in a way which boosts their morale. His communication skills much be encouraging and motivating enough for him to win the loyalty and support of his subordinates. He should be a good team player and must be able to guide his team to success. For this it is said that he must have a high EQ. EQ (Emotional Intelligence) which is also known as social intelligence is needed for good interpersonal competence and man management skills.  Technical competencies are primary for a trainee, but as he move up in career, and forms his team and has people reporting to him, his technical competencies become secondary and interpersonal relationship skills and man-management skills become primary.
Key to survival today is your ability to manage people, motivate people, winning their support and getting things done. In this programme, these issues will be dealt in detail and participants will be helped to develop and learn this skill.
This programme aims to help the participants do that with special focus on Motivating People, Interpersonal Skills, Team Working Ability, Team Building, Emotional Intelligence & Inspiring Communication.
Emotional Quotient Programme Objectives:
To understand the prime elements of Emotional Intelligence.
To gain awareness of how to increase morale and inspire high performance
To build strong, open, and honest relationships.
To learn how to increase your ability to communicate and motivate others, based on understanding their emotions.
To educate participants of various leadership styles and their impact on team.
To help participants explore and develop specific behavioral traits of a leader making them more effective at work.
To explain and make participants understand their own style of leadership and to help them reason out its effectiveness.
To develop man management, interpersonal and attitudinal skills of the participants
To teach participants specific ways, and behavioral techniques to improve their interpersonal skills in dealing with his team
To make participants more sensitive in terms of their behavior towards their subordinates & seniors
To help participants improve their communication skills with reference to their dealing with a large no. of subordinates.
To influence participants on the importance of teamwork and team building skills.  
Contents: Emotional Quotient Training Program
What Is Emotional Intelligence (EI)?
Emotional Intelligence In The Workplace.
Self Management.
Dimensions Of Emotional Intelligence.
Emotional Intelligence & Leadership
Emotional Intelligence – Assessment & Action Plan.
Leadership Concepts & Issues
Types of Leadership & Its Effectiveness
Managerial Grid Leadership
Situational Leadership
Interpersonal Relationship Skills
Generating Synergy
Communication – Feedback, Openness, Listening, Trust, Criticism & Critique
Conflict Resolution
Attitudinal Change for Better Teamwork
Johari Window Exercise
Emotional Intelligence: Sensitivity: Dealing with Seniors, Dealing with Elderly Subordinates, Dealing with Juniors & Subordinates.
EQ Test
For Whom: Jr. & Middle Management
Duration: One/Two Days
Language: English
Venue: In-House
Methodology: Highly interactive sessions with individual attention and inputs. Experience sharing, Participation, Role-plays,  Exercises etc.
Faculty:
Prof. Praveen Singh
MBA (HRM), DPM&IR, B.A.(Psychology),TOTA, AGI(USA)
Praveen Singh has been actively involved in Training & Consulting since fifteen years in Power, Energy, Oil & Gas, Infrastructure Sector Companies.  He has been working for more than forty companies spread all across India. He is an experienced trainer in Soft-Skills, Attitudinal, Behavioral Training, HRD & Psychology topics.  He earlier worked with an UK based Web Enabled Co. as Human Resource Manager and with a leading  Management Consulting company. Currently he is Empanelled Corporate Trainer with companies like Reliance ADAG, Tata Power, Adani Group,  RBI, RCF, Essel Group, DTPS, CESC, AIPM, NEC, IEMR, Sterling, Etc. He is also an IMO & DG Shipping Certified Maritime Trainer & Consultant to MMTI, SCMS & GURSHIP.
He also teaches MBA & PG Students of Management as Visiting Faculty and is associated with several Business Schools affiliated with Mumbai University & SNDT University. He has been conducting programmes in many cities in India including, Mumbai, Delhi, Gurgaon, Noida,  Kolkata, Bangalore, Pune, Nashik, Mundra(Bhuj), Sagar(MP), Jodhpur, Patna, Goa, Orrisa, Kodaikanal & Cochin. Having traveled to many countries in Europe, including The Netherlands, Germany, Belgium & France, is exposed to different work cultures.