Inhouse Managerial Grid Leadership Training Programme
Cogito Training Centre, India, conducts inhouse training programme on "Managerial Grid Leadership" for senior and middle management employees of its client's companies by providing the services of a freelance Leadership Grid Instructor. Managerial Grid seminars are very popular across the globe. It's a standardized and copyrighted training programme. We have partnered with Grid Consultants Pvt. Ltd. Mumbai, to purchase the pre-work and seminar material from Grid Consultants, India. They represent Grid International Inc. in India. Our lead faculty Prof. Praveen Singh is a trained and certified Managerial Grid Instructor and is authorised to conduct Grid Leadership Seminars. Prof. Praveen Singh has been trained by Dr. P.N. Singh, an HRD Professional of International repute. Dr. P.N. Singh is credited with bringing Managerial Grid Training to India. He was also the first Indian to be certified as a Grid Instructor. Prof. Praveen Singh, has also assisted Dr. P.N. Singh, in many of his seminars on Managerial Grid in India. Grid seminars have gained a lot of popularity in India and is conducted all over India in cities like : Mumbai, Delhi, Jaipur, Raipur, Ranchi, Jamshedpur, Patna, Cochin, Indore, Chennai, Bangalore, Hyderabad and Kolkata. Please speak to us at 9869018775 or write to us at cogito_pks@hotmail.com to hire our freelance trainer for conducting a training program in your office premise within your city.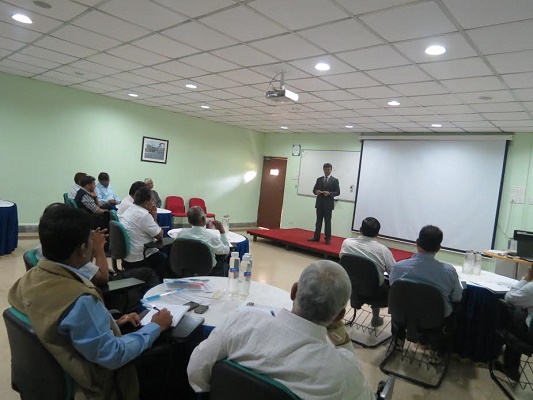 What is the Leadership Grid Training Workshop?
The  Grid Leadership Seminar is a four-day residential program designed to increase leadership effectiveness. Based on Grid theory developed by Drs. Robert R. Blake and Jane S. Mouton, the seminar is the classic tool for attaining leadership excellence and teamwork skills. Grid Consultants offers this seminar in a public venue as well as within organizations in various companies in India and a few countries in Asia. They are conducted by Dr.P.N.Singh who got GRID to India. The mere fact that it has been repeated for the 190TH  time demonstrates it power, usefulness and popularity.
The Grid workshop is popular in 30 countries worldwide in 14 languages.
The seminar puts participants in the driver's seat. The seminar is designed around a series of team-based activities. Within teams of 5-7 members, participants complete a number of measurable team tasks. A key element of the learning is achieved through subsequent team analysis (critique) of the human dynamics at play within the team. Participants spend 90 percent of their time in hands-on activities that provide opportunities to learn from direct experience and to receive personal feedback based on observed behaviors.
Through a process of ongoing development and review, team members gain a solid grasp of highly effective teamwork and how to realize the best in themselves and others. Both team and individual behavior is examined from the
perspective of six specific relationship skills: Critique, Inquiry, Decision Making, Initiative, Advocacy, Conflict Resolution, Resilience.
Who Can Benefit?
Anyone with leadership or supervisory responsibilities will benefit from the Leadership Grid. It is relevant for executives and supervisors and managers at all levels. Participants have repeatedly found it valuable whatever their relative experience, management level, or industry.
Seminar Goals
The specific learning objectives of the seminar are: Deepening Personal Awareness
Use the Grid Framework to define sound and unsound behavior.
Develop an objective understanding of how your behavior impacts others.
Generate personal commitment based on genuine consensus.
Use critique to inspire involvement, creativity, and commitment to producing synergy.
Implementing Change
Overcome the doubt and fear of change.
Define a strategy for personal change.
Create norms that motivate and inspire excellence.
Use critique to achieve continuous improvement and measurement.
Managing Conflict 
Approach conflict as a positive source of productive energy.
Use candour to strengthen the quality of conflict resolution.
Shift focus of conflict resolution from who's right to what's right.
Use critique to build sound relationships based on mutual trust and respect.
Creating Vision
Build a foundation of values to support vision.
Use vision to strengthen personal and team commitment.
Align personal vision with team and organization visions.
Use critique to maintain a clear and meaningful vision.
Expected Results from the Leadership Grid 
Identify your leadership style and its effect on others.
Obtain skills to maximize your leadership strengths and reach your potential.
Improve cooperation both inside and outside your team.
Enrich your organization culture to encourage productivity, creativity, and   participation.
Lead the change effort in your organization.
How Long Does It Take?
The seminar typically runs from 9:00 a.m. to 9:00 p.m. The first day start time may vary.
Your investment:
The material cost, which is copyrighted and on which we have to pay royalty to Grid International Inc, USA is Rs. 9000/- (US$ 200 per participant). The  charge is Rs.9000/-
 per set of the material per participant. (plus courier charges)
Faculty Fee: The  faculty fee will be Rs.50000/- for the complete 4-day programme. Airfare and local hospitality will be additional.
Infrastructure required: This is generally conducted on a residential basis. A hall and in addition one syndicate room for each 5-6 participants will be needed with flipchart boards in each room. So for a group of 20 – we will need 3  syndicate rooms. For one group we will use the conference room.
Benefits: This is the most powerful seminar for developing participative leadership style in managers and generating synergy through effective teamwork.
AV Equipment: A LCD projector is required for the programme.
As pre-work has to be done by participants we need a lead time of one month.  This, in our opinion could be a major intervention for development of successors, more participative culture and healthier organizational climate.
Faculty:
Prof. Praveen Singh
MBA (HRM), DPM&IR, B.A.(Psychology),TOTA, AGI(USA)
Praveen Singh has been actively involved in Training & Consulting since last fifteen years in Power, Energy, Oil & Gas, Infrastructure Sector Companies.  He has been working for more than forty companies spread all across India. He is an experienced trainer in Soft-Skills, Attitudinal, Behavioral Training, HRD & Psychology topics.  He earlier worked with an UK based Web Enabled Co. as Human Resource Manager and with a leading  Management Consulting company. Currently he is Empanelled Corporate Trainer with companies like Reliance ADAG, Tata Power, Adani Group,  RBI, RCF, Essel Group, DTPS, CESC, AIPM, NEC, IEMR, Sterling, Etc. He is also an IMO & DG Shipping Certified Maritime Trainer & Consultant to MMTI, SCMS & GURSHIP.
He also teaches MBA & PG Students of Management as Visiting Faculty and is associated with several Business Schools affiliated with Mumbai University & SNDT University. He has been conducting programmes in many cities in India including, Mumbai, Delhi, Gurgaon, Noida,  Kolkata, Bangalore, Pune, Nashik, Mundra(Bhuj), Sagar(MP), Jodhpur, Patna, Goa, Orrisa, Kodaikanal & Cochin. Having traveled to many countries in Europe, including The Netherlands, Germany, Belgium & France, is exposed to different work cultures.