Inhouse Training on Negotiation Skills
Cogito Training Centre, India, regularly conducts inhouse training course on Negotiation Skills  for the employees of its clients. Cogito provides the services of  freelance negotiation skills trainer for conducting the programme. Our programmes and negotiation skills modules are customised  as per the training requirements of our clients. Companies can hire our freelance negotiation skills trainer for conducting tailor made training modules. Cogito Training Centre provides trainers to our clients in all major cities like: Mumbai, Delhi, Chennai, Bangalore, Hyderabad and Kolkata. Please speak to us at 9869018775 or write to us at cogito_pks@hotmail.com to hire our freelance trainer for conducting a training program in your office premise within your city.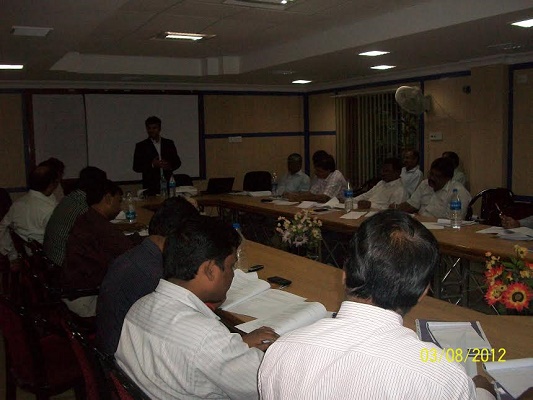 Introduction to Negotiation Skills Training:
Negotiation is a fact of life. We meet, communicate and negotiate with so many people in our personal and professional life.
It is inevitable that, from time-to-time, conflict and disagreement will arise as the differing needs, wants, aims and beliefs of people are brought together.  Without negotiation, such conflicts may lead to argument and resentment resulting in one or all of the parties feeling dissatisfied. The point of negotiation is to try to reach agreements without causing future barriers to communications.
Negotiation become all the more significant when it comes to dealing with our customers and stakeholders. It's a sensitive issue and must be dealt with professional finesse and expertise. The objective is to reach a win-win situation so that business relations do no suffer and parties feel happy and satisfied with the outcome.
This programme deals with this topics to bring a clear understanding of the concepts of negotiation and give the participants fresh ideas to implement when they go back to their jobs.
Objective of Negotiation Skills Course:
Understanding the negotiation process and the best alternatives to reach an agreement
To be able to negotiate effectively with clients and creating win-win situations
Understanding various styles of negotiations and their applications
Identifying the barriers to effective negotiation.
Recognizing the benefits of excellent listening skills
Instilling the courage to be assertive — in the most appropriate and effective way
Creating win-win situation through assertiveness
Developing positive communication skills
For Whom: Jr. & Middle Management
Duration: One Day
Language: English
Contents:
Understanding Negotiation
Four Phases of Negotiation
Approaches to Negotiation
Barriers to Effective Negotiation
Types of Negotiation
Case Discussions
Role Play Exercise – Simulation of the real situation from work life.
Negotiation Games
Skills for Successful Negotiation
The Psychological Game
EQ Test
Influencing Skills & Attitudinal Change
Communication Etiquette
Venue: In-House
Methodology: Highly interactive sessions with individual attention and inputs. Experience sharing, Participation, Role-plays,  Exercises etc.
Course Material: Course material with be provided for each programme.
Faculty:
Prof. Praveen Singh
MBA (HRM), DPM&IR, B.A.(Psychology),TOTA, AGI(USA)
Praveen Singh has been actively involved in Training & Consulting since fifteen years in Power, Energy, Oil & Gas, Infrastructure Sector Companies.  He has been working for more than forty companies spread all across India. He is an experienced trainer in Soft-Skills, Attitudinal, Behavioral Training, HRD & Psychology topics.  He earlier worked with an UK based Web Enabled Co. as Human Resource Manager and with a leading  Management Consulting company. Currently he is Empanelled Corporate Trainer with companies like Reliance ADAG, Tata Power, Adani Group,  RBI, RCF, Essel Group, DTPS, CESC, AIPM, NEC, IEMR, Sterling, Etc. He is also an IMO & DG Shipping Certified Maritime Trainer & Consultant to MMTI, SCMS & GURSHIP.
He also teaches MBA & PG Students of Management as Visiting Faculty and is associated with several Business Schools affiliated with Mumbai University & SNDT University. He has been conducting programmes in many cities in India including, Mumbai, Delhi, Gurgaon, Noida,  Kolkata, Bangalore, Pune, Nashik, Mundra(Bhuj), Sagar(MP), Jodhpur, Patna, Goa, Orrisa, Kodaikanal & Cochin. Having traveled to many countries in Europe, including The Netherlands, Germany, Belgium & France, is exposed to different work cultures.