Inhouse Training on Time Management 
Cogito Training Centre, India, regularly conducts inhouse training programme on Time Management for the employees of its client's companies by providing the services of freelance Time Management Trainers. Our programmes are customised as per the training requirements of our clients. We add additional modules and topics as per the need. We also help in hiring a freelance trainer for conducting time management training modules. Cogito Training Centre provides time management training to our clients in all major cities like: Mumbai, Delhi, Chennai, Bangalore, Hyderabad and Kolkata. Please speak to us at 9869018775 or write to us at cogito_pks@hotmail.com to hire our freelance trainer for conducting a training program in your organisation.
Time Management Training Introduction
Time Management is all about self management. We can never manage time. Time is beyond our control. To get the best out of our life, we must adjust our self with the available time in such a way that we are able to increase our efficiency and decrease our stress levels. Usually its our behavior and life style which is to be blamed for many of our time management related issues. By bringing some changes in our life style and attitude along with following practical and technical guidelines, we can be better in managing our lives. This programme is designed to address this issue in detail.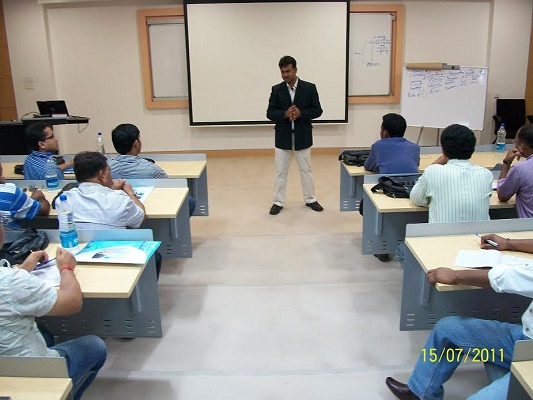 Time Management Workshop Objective:
To sensitize participants on importance of time
To make participants realize the need to change their lifestyle
To teach participants fine techniques of managing time
To encourage and motivate participants to adopt better methods.
Learning from each other's time management models
For Whom:  Middle & Senior Management Cadre
Methodology: Lecture, presentation, discussions, participant's presentation, etc.   
Course Material: Course material with be provided
Time Management Training Programme – Content
Understanding Time Management – Introduction
Exercise – My typical day
Self Management to Time Management
Exercise – This is my issue
Time Management & Planning
Time Management & Goal Setting
Time Management & Stress Management
Time Matrix – Discussion & Exercise
The western technique
Life style issues in Time Management
Memory – Role of Psychology & Subconscious Mind
Three in One Rule
Group Exercise
Behavioral & Life style issues
Dos & Don'ts
Learning & action plan
Individual Presentation & Closing
Faculty:
Prof. Praveen Singh
MBA (HRM), DPM&IR, B.A.(Psychology),TOTA, AGI(USA)
Praveen Singh has been actively involved in Training & Consulting since fifteen years in Power, Energy, Oil & Gas, Infrastructure Sector Companies.  He has been working for more than forty companies spread all across India. He is an experienced trainer in Soft-Skills, Attitudinal, Behavioral Training, HRD & Psychology topics.  He earlier worked with an UK based Web Enabled Co. as Human Resource Manager and with a leading  Management Consulting company. Currently he is Empanelled Corporate Trainer with companies like Reliance ADAG, Tata Power, Adani Group,  RBI, RCF, Essel Group, DTPS, CESC, AIPM, NEC, IEMR, Sterling, Etc. He is also an IMO & DG Shipping Certified Maritime Trainer & Consultant to MMTI, SCMS & GURSHIP.
He also teaches MBA & PG Students of Management as Visiting Faculty and is associated with several Business Schools affiliated with Mumbai University & SNDT University. He has been conducting programmes in many cities in India including, Mumbai, Delhi, Gurgaon, Noida,  Kolkata, Bangalore, Pune, Nashik, Mundra(Bhuj), Sagar(MP), Jodhpur, Patna, Goa, Orrisa, Kodaikanal & Cochin. Having traveled to many countries in Europe, including The Netherlands, Germany, Belgium & France, is exposed to different work cultures.