Inhouse Training on Train the Trainer(TTT) 
Cogito Training Centre, India, regularly conducts inhouse faculty development programme on the topic Training of Trainers (ToT) for the employees of its client's companies by providing the services of a freelance faculty development trainer. Our programmes are customised as per the training requirements of our clients. We add additional modules and topics in the training of trainers programme as per the need. We also help in hiring a freelance trainer for conducting train the trainer training modules. Cogito Training Centre provides faculty development trainers to our clients in all major cities like: Mumbai, Delhi, Chennai, Bangalore, Hyderabad and Kolkata. Please speak to us at 9869018775 or write to us at cogito_pks@hotmail.com to hire our freelance trainer for conducting a training program in your institution.
Training The Trainers Program Introduction
Imparting education and skill development to its people is of the most crucial skill that an organization must possess. Transfer of knowledge is very important for growth and development of an organization. Often this transfer is effectuated through training which is facilitated by in-house training professionals. To ensure an effective and smooth transfer of knowledge, organizations need to develop a team of trained training professionals. This is achieved by organizing faculty development programmes or more commonly known as the "Train The Trainer Programme" on regular intervals. This "Training of Trainers" programme is one of the training initiatives exclusively designed for faculty development. This programme aims at developing in-house faculties by giving specific training inputs helping them sharpen their training skills making it interesting and effective.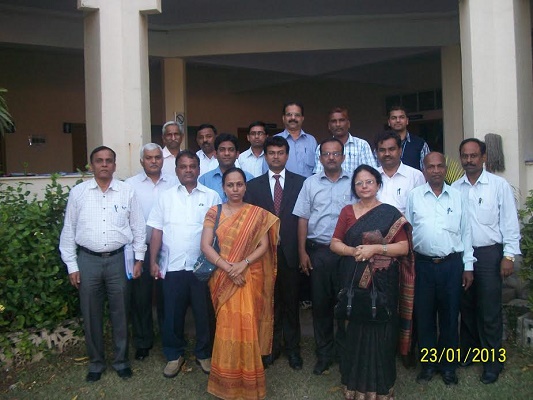 Train The Trainer (TTT) Programme Objective:
To help training coordinators understand the importance and impact of training on people and business.
To teach training coordinators ways to motivate and inspire more participation and involvement from employees and department heads.
To help in-house trainers learn new and interesting methods of training.
To help participants learn to design a training programme
To inspire trainers learn classroom management and participant handling skills.
To improve platform and delivery skills of training coordinators.
Training The Trainers course outline and Programme Contents
Training: Its importance, The role it plays in Organization Development, Sharpening the skills, Capacity Building, Training and Development. Coaching, Counseling and Mentoring.
Moving from Teaching and Training to Facilitating
Marketing a programme: Changing attitude of people, Influencing people into participating, Involving Sr. Management in the training process.
Platform Skills: Public Speaking, Presentation Skills, Video Recording of Participants and Feedback.
Classroom Skills: Communicating with participants, Engaging the participants, Keeping the interaction high, Involving people, Handling questions, Managing aggression and indiscipline.
Psychology of Trainees, Understanding Body Language, Eye Contact, Voice Modulation,
Content and delivery- preparing the right content and presentation strategy, story telling and exercises for participants.
Domains of learning, Concept of Specific Learning Objectives.
Different training methods and using teaching aids.
Designing a training module, Evaluation of training
Motivating participants into learning, appreciating, encouraging, supporting and handholding, Rapport building.
Counseling Skills, Coaching and Mentoring Skills
For Whom:  Junior and Middle Management Cadre
Methodology: Lecture, Presentation, Participants Presentation, Interactions, Exercises, Video Recording and Feedback.
Course Material: Course material with be provided
Faculty:
Prof. Praveen Singh
MBA (HRM), DPM&IR, B.A.(Psychology),TOTA, AGI(USA)
Praveen Singh has been actively involved in Training and Consulting since fifteen years in Power, Energy, Oil & Gas, Infrastructure Sector Companies.  He has been working for more than forty companies spread all across India. He is an experienced trainer in Soft-Skills, Attitudinal, Behavioral Training, HRD and Psychology topics.  He earlier worked with an UK based Web Enabled Co. as Human Resource Manager and with a leading  Management Consulting company. Currently he is Empanelled Corporate Trainer with companies like Reliance ADAG, Tata Power, Adani Group,  RBI, RCF, Essel Group, DTPS, CESC, AIPM, NEC, IEMR, Sterling, Etc. He is also an IMO & DG Shipping Certified Maritime Trainer & Consultant to MMTI, SCMS & GURSHIP.
He also teaches MBA and PG Students of Management as Visiting Faculty and is associated with several Business Schools affiliated with Mumbai University and SNDT University. He has been conducting programmes in many cities in India including, Mumbai, Delhi, Gurgaon, Noida,  Kolkata, Bangalore, Pune, Nashik, Mundra(Bhuj), Sagar(MP), Jodhpur, Patna, Goa, Orrisa, Kodaikanal & Cochin. Having traveled to many countries in Europe, including The Netherlands, Germany, Belgium & France, is exposed to different work cultures.