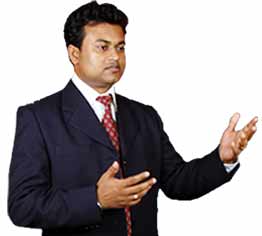 Praveen Singh
MBA (HRM), DPM&IR, B.A.(Psychology),TOTA, AGI(USA)
Director & Lead Faculty
Praveen Singh has been actively involved in Training & Consulting for more than fifteen years. He is an experienced trainer in Soft-Skills, Attitudinal, Behavioral Training, HRD & Psychology topics.  He earlier worked with an UK based Web Enabled Co. as Human Resource Manager and with a leading  Management Consulting company. He is the Lead Faculty at Cogito Training & Counseling Centre, External Consultant & Empanelled Trainer at Reliance ADAG, DTPS, CESC, AIPM, NEC, IEMR & Sterling Institute. Maritime Trainer & Consultant to MMTI, SCMS & GURSHIP. He is also a Visiting faculty to several Management Institutes in Mumbai.
He has been conducting programmes in many cities in India including, Mumbai, Delhi, Kolkata, Bangalore, Pune, Nashik, Jodhpur, Patna, Goa, Orrisa, Kodaikanal & Cochin. Having traveled to many countries in Europe, including The Netherlands, Germany, Belgium & France, is exposed to different work cultures.
Faculty, Consultant Associates & Psychologists on Panel
Ms. Mohua Banerjee, MBA- HR
Mohua has over a decade of Corporate HR experience in the area of Learning and Development, OD, Competency Mapping, Performance Management and Reward Systems, Employee Engagement and Policy and Process work. Is currently a freelance Behavioral Trainer and a HR Consultant and works with Corporate, Family run businesses and NGO's.
Ms. Nikita Gupta, M.A. (Applied Psychology)
An entrepreneur and social sector professional committed to empowering people with the knowledge and skills to transform their environment. She have 6 years of grassroots experience in program design, training and coaching. Key areas of work includes leadership development, social entrepreneurship, and sexuality and related issues.
Ms. Poonam Agarwal
M.A. (Counseling Psychology) Counselor & Psychotherapist.
Ms. Janaki 
M.A. (Clinical Psychology), Psychologist & Therapist.
Dr. (Mrs.) Anuradha Jain
Ph.D, MA, (Counseling Psychology),Counselor & Psychotherapist
Dr. Swagata Nandi Dasgupta
Ph.D, MA, Clinical Psychologist & Therapist
Ms. Sonam Mehta
Special Educator
Ms. Luisa Lobo
M.A. Applied Psychology
Ms. Chandan Nisar
M.A. Applied Psychology
Ms. Kajal Singh
M.A. Clinical Psychology